CCK: Special Allocation for COVID-19 Response
1. CCK: Joining UWW Food Security Initiative for 3 Southeast Asian Countries Affected by the Pandemic
2. CCK: COVID-19 Special Allocations
1. CCK: Joining UWW Food Security Initiative for 3 Southeast Asian Countries affected by the Pandemic
In partnership with United Way Worldwide, CCK is supporting Southeast Asian communities to address COVID-19 triggered food security issue. This project will benefit communities in Indonesia, Vietnam, and Myanmar with home delivered meals and address food security caused by the COVID-19 pandemic. CCK realizes these countries are experiencing an unparalleled impact from the virus due to the lack of public and private medical services and welfare infrastructure. CCK saw the needs and agreed to donate USD 100,000 through United Way Worldwide and give top priority to prevent hunger among children and women in low-income areas of the three countries.  
UWW Asia team will monitor and report on the implementation of the project in each country. The funds provided by CCK will be solely used for purchasing groceries and daily necessities, as well as medical education kits related to hygiene and COVID-19.
☞ CCK and UWW have been running the Asia Pacific Learning Center since 2010 to share Korea's experiences in developing "a culture of sharing" and growth strategies. In addition, they work together to help other countries to establish fundraising systems and create a self-sustaining regional ecosystem of sharing.
Project Overview
○ Name :The COVID-19 Food Security Initiative helping communities in Southeast Asia- Indonesia, Myanmar & Vietnam
○ Period: Jun. 1 - Dec. 31, 2020
○ Project Details
1. Families of vulnerable population in three Southeast Asian countries (Indonesia, Myanmar & Vietnam) unable to secure food and hygiene products during the COVID-19 outbreak
2. Target: 5,000 households whose livelihoods are threatened by COVID-19
3. Details
- Grocery and daily necessity kit for each household
- Education Campaign about COVID-19 through mass media and social media
4. Participating Institutions
- ASEAN Foundation (established by ASEAN's ten member states)
- Indonesia's Food for Indonesia (Peduli Panga)
- Vietnam's MSD (Management and Sustainable Development Institute)
CCK: COVID-19 Special Allocations
"Prioritizing Urgent Areas, Covering All Areas in Need in a Prompt Manner"
Starting with COVID-19 emergency support projects in 54 locations in February ( KRW 1 billion or approx. USD 827,130), CCK has so far funded 3,609 projects through 760 allocation partners across Korea (KRW 101.32 billion or approx. USD 83.9 million). Projects completed or still ongoing account for 94% of total fundraised (as of May 20). CCK adheres to the following principles to ensure prompt and effective allocation of the donations raised nationwide.
COVID-19 Special Allocation Projects in Four Areas
| Area | Description |
| --- | --- |
| 1) Livelihood support for families in crisis | Living expenses for families in crisis, covering daily necessities, groceries, and ready-to-cook meals |
| 2) Support for medical staff, patients, quarantined individuals, and volunteers | Provide supplies such as protective gear, underwear, meals/snacks, daily supplies for those hospitalized or quarantined suddenly |
| 3) Disinfection and sanitation control | Health supplies and personal hygiene items, disinfection of spaces where COVID-19 patients were visited or lived in |
| 4) Support in welfare service gaps | Substitute healthcare personnel, activities to replace reduced social activities, psychological and emotional support, support for temporary dwelling, and etc. |
Lee Tae-su, Chairman of the CCK Headquarter Fund Allocation Subcommittee

"Focusing on providing prompt and effective assistance in the face of national crisis"

COVID-19 was the first social crisis that affected the entire nation, and I felt I had an extra responsibility when discussing the allocation plan. We created a special task forces to ensure the rapid response and we communicated with those in the field to establish allocation criteria and areas for assistance. We wanted to make sure the funds are allocated to the areas most needed. As we have a strong network with social welfare organizations from various projects in the past, we were able to address a diverse range of social needs, including housing, the environment, medical services and employment. Now is the time to look at the bigger picture and establish a new support system aims at creating "a safer society" considering the changes in our post-coronavirus society. We will continue to listen to the people working on the frontline, act swiftly, be different from the government, and value cooperation.
One. Prioritizing Urgent Areas
Since the beginning of COVID-19 pandemic, CCK has been actively communicating with social welfare institutions, associations and facilities and held meetings with them to understand the difficulties they face and identify welfare "blind spots." The Fund Allocation Subcommittees of CCK headquarters and 17 local branches gathered together to set the criteria and priorities for support. There are four areas identified as priorities: 1. Livelihood support for families in crisis, 2. Support for medical staff, patients, quarantined individuals, and volunteers, 3. Disinfection and sanitation control, and 4. Support in welfare service gaps.

| 1. Livelihood support for families in crisis | 2. Support for medical staff, patients, quarantined people, and volunteers | 3. Disinfection and sanitation control | 4. Support in welfare service gaps. |
| --- | --- | --- | --- |
| 30.2% | 12.2% | 49.6% | 8% |
Two. Covering All Areas in Need
COVID-19 has caused a social crisis with serious repercussions for the entire nation. To address this national and all-encompassing crisis, CCK has provided a flexible and multi-faceted support. For instance, CCK expanded its scope of project areas, which used to focus on social welfare services only, to providing medical equipment and supplies to support patients' treatments and healthcare providers, and providing disinfection equipment for local communities. Limits on funds provide for individuals have also increased.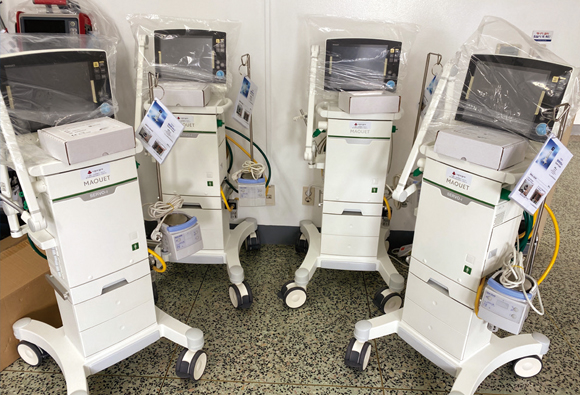 Three. In a Prompt Manner
Knowing the need for urgent and immediate response to this infectious disease, CCK sought to allocate funding to projects promptly. Based on the cooperative system with our allocation partners, who have expertise in providing assistance simultaneously across the country, efforts were made to resolve hardships in the field as quickly as possible by simplifying application procedures and required documentation and deliberating through an online system in real time.